Thank you for your interest in volunteering at South Georgia Medical Center! Our Volunteers come from all walks of life, they are a blend of people that share a common purpose – helping others by giving of themselves. Through your dedication as an SGMC Volunteer, you will help provide a personal touch appreciated by patients, visitors, guests, and staff.
Our Volunteers make us proud and we value their contribution to our hospital and communities by enhancing the patient and family experience.

Volunteer Opportunities
• Some Volunteer duties may vary by department and our opportunities are abundant!
• Hospital Gift Shop
• Information & Patient Registration Desks
• Nursing Units and ER Hospitable Assistance
• Pearlman Cancer Center
• Patient Deliveries/Delivering Support with Smiles
• Courtesy Cart Transport (requires clean MVR)
Volunteer Application Process
The first step to becoming a volunteer at South Georgia Medical Center is to apply. Based on the information you submit and position availability, we will contact you to set up a meet and greet. During our meet and greet with other potential candidates, we will learn a few things about each other, and complete some necessary administrative paperwork to include background check and health screening information.
Meet and greets are typically held once monthly on a Tuesday at 1pm. The dates vary depending on the number of applicants. After your application has been reviewed, an email will be sent detailing the specific Tuesday date for the meet and greet. The rest of the month is reserved for reviewing applications, and initial telephone communication, followed by email communications regarding orientation, and other pertinent volunteer information so that you can make the best, most informed decision about donating your time to our organization.
Health screenings: all eligible volunteers are required to complete a TB skin test. Additionally, flu and covid vaccinations are mandatory at this time unless there is a medical or religious exemption. Once the background check has cleared, we will administer the TB test and flu/covid shot at no cost to you.
Volunteer Requirements:
Successfully pass a background check.
Work one 4-hour shift per week minimum for a minimum period of six months, or longer.
Attend a minimum of 2 Auxiliary general meetings annually. Meetings last one hour and are held inside the hospital on the 4th Wednesday of each month.
Purchase a uniform top (pink shirts for women, red shirts for men); adhere to SGMC volunteer dress codes.
All potential volunteer candidates shall be required to exhibit excellent, compassionate communication skills at a minimum in the following areas:
Exchange of information at all levels.
Must be physically fit with demonstrated ability and agility.
Must have full range of movement and be able to lift up to 25 pounds.
Must be dependable and timely.
Volunteers must be kind, pleasant, and available to all customers. Must be able to deal professionally with people who could be under stress.
Must be able to relate well to people. Must be able to clearly and effectively communicate.
Must be emotionally stable and willing to assist in a potentially high-stress environment.
Must be a mature, positive, outgoing, service-oriented individual with an emphasis on compassion.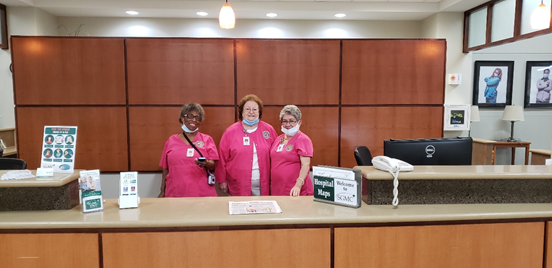 Service Essentials
I will warmly and sincerely greet our guests.
I will anticipate and fulfill the needs of our guests.
I will provide each guest with a pleasant goodbye.