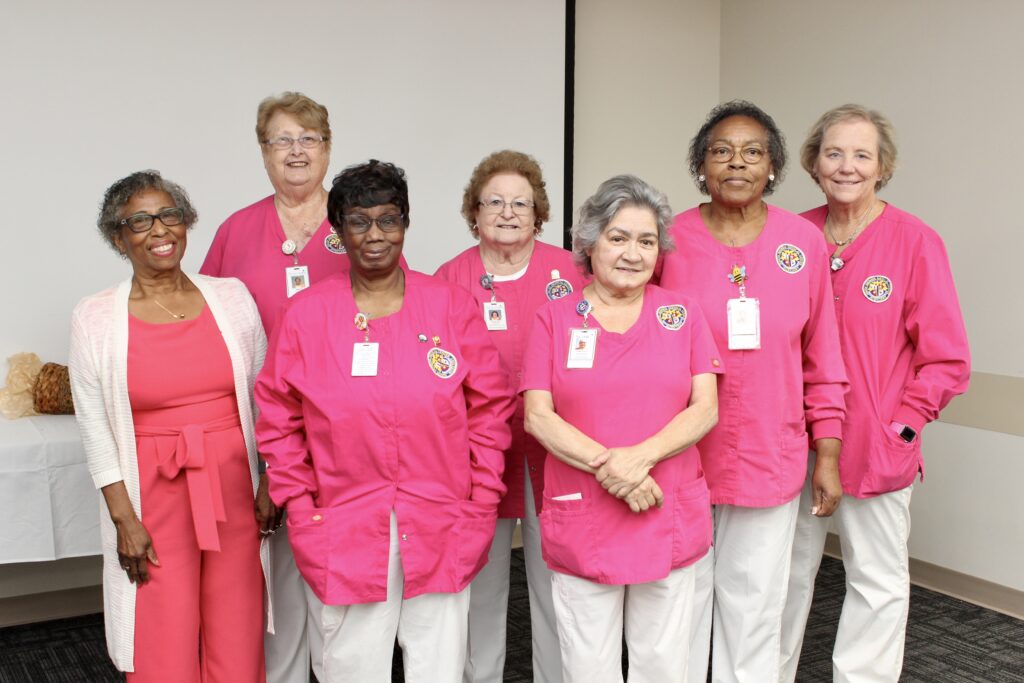 Board of Management
Ora Morrison, President
Peggy Beauvais, President Elect/Hours & Awards
Joan Barrese, VP Programs & Recording Secretary
Clara Lugo, Treasurer
Emerida Rodriguez, Corresponding Secretary
Barbara Thomas, Parliamentarian
Dianne Belcher, Ways & Means (Fundraising)/Inspiration
Jan Newton, Past President
The History of our South Georgia Medical Center Auxiliary

The South Georgia Medical Center Volunteer Auxiliary was organized on April 5, 1956. Having only a few members, our duties were limited but our ideals were not. In 1958, we joined with the Georgia Hospital Association. Soon after that, we were host to the Georgia Council on Auxiliaries Annual Training Conference. In 1977 the name "Pink Ladies" was changed to Auxilians" to reflect the male membership in the organization.
Fast forward to current events, we have seen an immeasurable amount of change and growth that we can only describe as invaluable opportunities to continue our fellowship and mission. Adopting programs such as our fundraising initiatives that are reinvested back into South Georgia Medical Center, the development of our Youth Program which also integrated male volunteers, the growth of our Golden Galleria Gift Shop, and the dedication to our Clarice Ivey Massey Scholarship have all found their way through the progression of what continues to be an evolving campaign.
The diversity of our Volunteer Auxiliary offers endless opportunities for our patients, visitors, and employees to be engaged and exposed to a quality volunteer service that could prove to be a challenge to find anywhere else. South Georgia Medical Center's volunteers pride themselves on creating moments of service excellence in the simplest forms possible. Whether you call it grace, hospitality, or kindness, you will experience something unlike anything else when you experience our South Georgia Medical Center's Volunteers.