The Radiation Oncology program at Pearlman is one of six in Georgia accredited by the American College of Radiology. This accreditation has been consistently maintained for 19 years.

Radiation treatments are delivered by Radiation Oncologist John Devine, MD and experienced staff. With two, top-of-the-line, linear accelerators and a state-of-the-art cancer treatment simulator, Pearlman physicist and dosimetrist assist Dr. Devine in developing individualized treatment plans.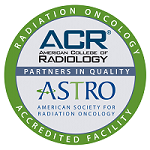 Linear Accelerators
The center has two Elekta VersaHD Linear Accelerators that provide Intensity Modulated Radiation Therapy (IMRT) with Image Guided Radiation Therapy (IGRT). IMRT is a form of radiation which allows the radiation oncologist to vary the intensity of the radiation beam across the treatment field. So instead of patients being treated with a single, large uniform beam of radiation, IMRT uses hundreds of very small beams with each beam having a different intensity, some stronger, some weaker.  IGRT enhances the delivery of IMRT by addressing the variations caused by the motions of internal organs. IGRT makes the dose of radiation delivered the most accurate possible.

Stereotactic Body Radiation Therapy is another advanced technology that is available at Pearlman. Sterotactic Radiotherapy uses IGRT to locate disease and a system of immobilization called Vaclock to fix a patient's body in a defined position so precise, targeted beams of radiation can be administered.