Education is provided to each patient and is specifically tailored to their cancer type and treatments. Individual sessions are conducted with an oncology nurse to allow patients the privacy and comfort to ask any questions they may have.
A Patient Resource Room is also available to patients and families. This area provides written materials as well as a computer for patient use. This allows patients who may not have internet access at home to be able to access the American Cancer Society and other websites that offer education and/or assistance. The Resource Room is available for use during the regular operating hours of the Pearlman Cancer Center.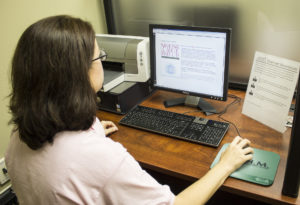 The Pearlman Cancer Center Patient Guide is a tool for newly diagnosed patients to navigate through the many services available to them at the Cancer Center and through various agencies that can provide additional support and assistance.