Step 1: Confirm you are eligible
Thank you for choosing to be vaccinated for COVID-19. Together, we can create a community of immunity!
The Georgia Department of Public Health has announced that all individuals in the Phase1A+ group are eligible for the vaccine at this time.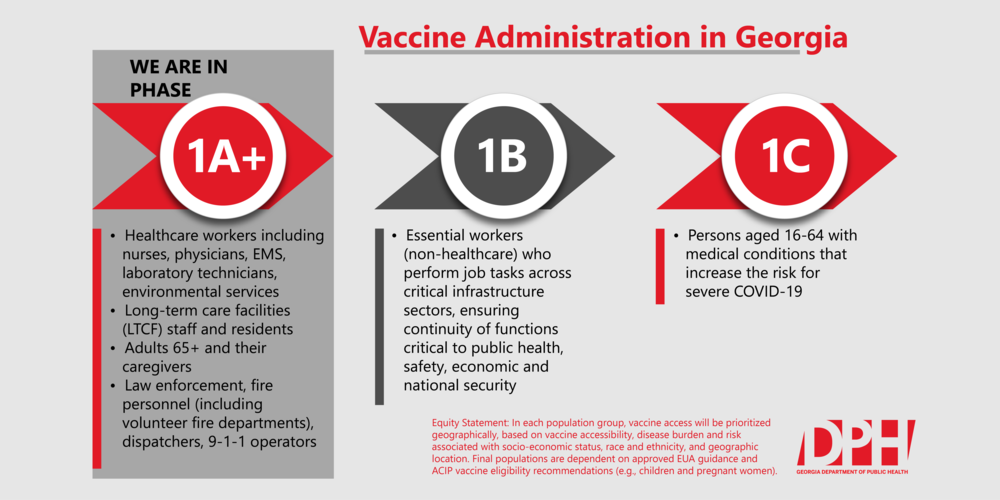 Georgia residents in the following groups include the following:
Healthcare workers (physicians, nurses, laboratory technicians, EMS personnel, environmental services, etc.)
Residents and staff of long-term care facilities
Adults aged 65 and older plus one caregiver
Law enforcement, firefighters, first responders
Step 2: Register for your appointment online
Appointment availability is subject to change based on SGMC's available vaccine supply which is determined by the State of Georgia.
To receive a vaccine from SGMC, you must register online for an appointment at one of our three sites. Please enter as much information as possible during your registration to expedite your vaccination process. Also, please download, print, complete and bring this form with you to your appointment.
If there are multiple people, please register each person individually.
Available times will disappear once the slots are filled.
Do not use the link below to schedule your second dose. Once you receive your first dose a different link will be provided to you to schedule your second vaccination.
Step 3: Report to your vaccination site
SGMC is providing vaccinations at three sites located in Valdosta, Nashville and Lakeland. Please see information specific to the site at which you registered below.
SGMC Regional COVID-19 Vaccination Drive Thru
The vaccination site is located at the SGMC Main Campus, Surgery Center Drive Thru at 2417 North Patterson Street in Valdosta, GA. Enter through the entrance off of Woodrow Wilson Drive and you will be greeted by SGMC staff and directed through the vaccination site.
Be sure to wear a shirt that gives access to your upper arm – and don't forget to wear your mask.
SGMC Berrien Campus
1221 East McPherson Avenue, Nashville, GA
SGMC Lanier Campus
116 West Thigpen Avenue, Lakeland, GA
Step 4: Get your second dose
You must receive a second dose within 21 to 28 days after the first dose for the vaccine to be effective. Without the follow-up booster, the first dose is not effective and is essentially a wasted vaccine. You will be able to schedule your second dose appointment via your MyChart account after you receive your first.
Don't forget to sign up for the CDC's V-safe program to track side effects.
COVID-19 Vaccination Hotline is available Monday-Friday, 10am-3pm at 229-433-1068
Thank you for choosing SGMC and your help in creating a Community of Immunity!