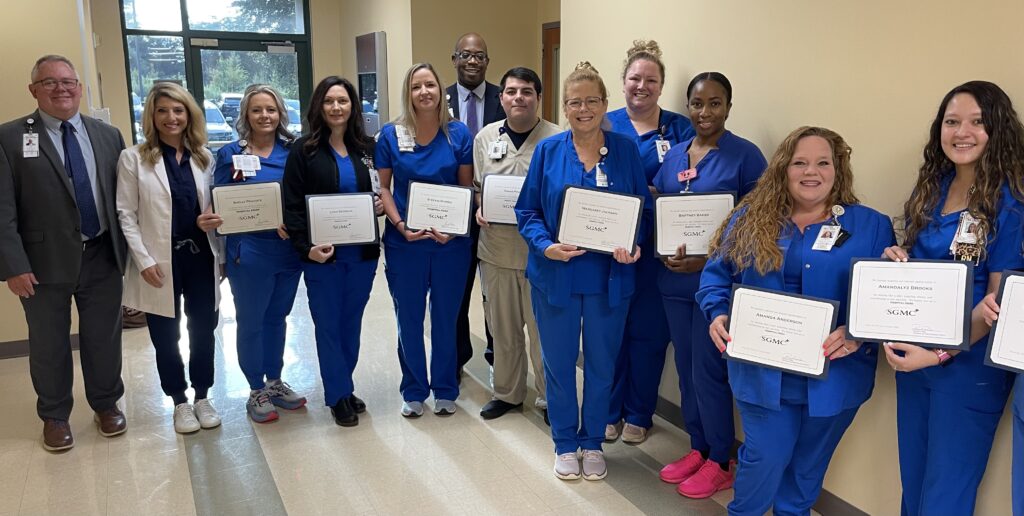 South Georgia Medical Center recognized care teams from its Smith Northview Emergency Department (ED) and Urgent Care (UC) as Health System Heroes at the August Board of Trustees meeting.
SGMC ED and UC Co-Director Elizabeth Flail, DO, commended the teams for their exemplary performance, collaboration, and leadership in expanding these services to better meet the needs of the growing area of North Lowndes County. Since opening earlier this year, they have treated more than 30,000 patients.
ED Nurse Manager Lynn Seymour and UC Clinical Practice Leader Amanda Anderson took the opportunity to thank their staff as well as those serving in support areas throughout the Smith Northview Campus to include imaging, laboratory, and surgery.
Smith Northview Campus Administrator Don Luke shared, "The professionalism and teamwork demonstrated by these two teams is amazing. They work seamlessly together to ensure the best level of service and care for their patients, often floating between services as needed. They are truly remarkable and I appreciate their hard work and selfless dedication."
They received a standing ovation from those in attendance.
SGMC's Urgent Care is located at 4256 N. Valdosta Rd. and is open every day from 9am to 7:45pm providing quality, walk-in care for patients of all ages. The Smith Northview Campus ED is located at 4280 N. Valdosta Rd. and is open 24/7, treating serious and life-threatening conditions.
For more information on SGMC's primary care, urgent care, and emergency services visit sgmc.org/knowthengo.