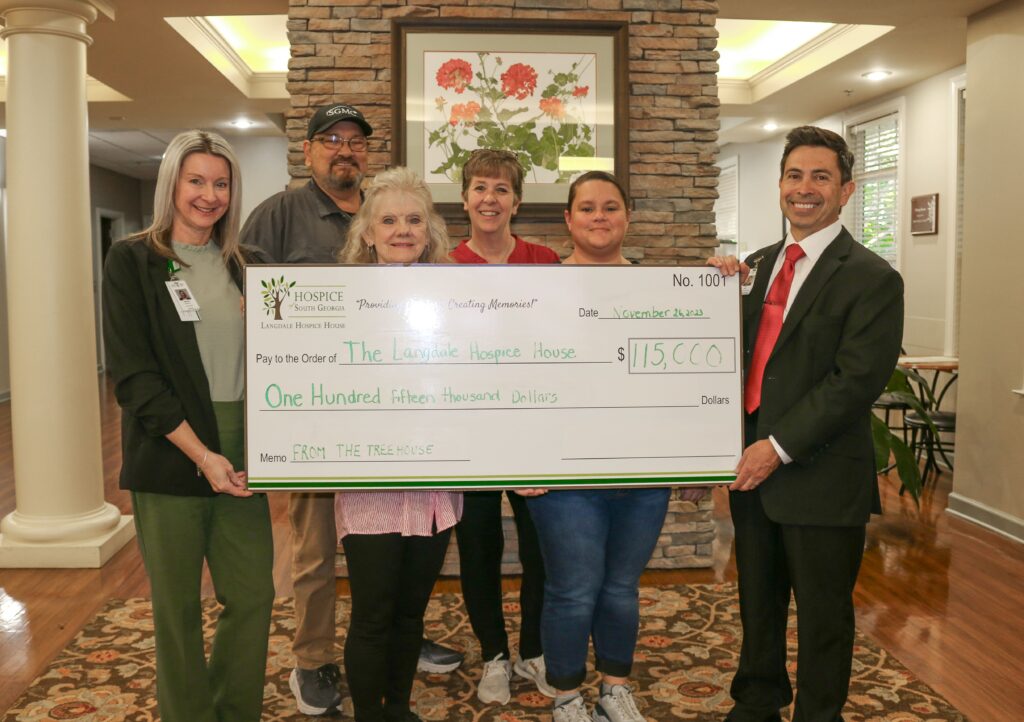 Volunteers and employees of the Tree House Thrift Shop present Hospice of South Georgia leadership with a $115,000 donation during National Hospice and Palliative Care Month
Hospice of South Georgia (HOSG) and Langdale Hospice House, an affiliate of SGMC Health, received a $115,000 donation from The Tree House Thrift Shop during National Hospice and Palliative Care Month.
As Valdosta's only not-for-profit hospice, HOSG relies on donations from the community to help provide services to patients regardless of their ability to pay. National Hospice and Palliative Care Month, observed each November, provides an important opportunity to raise awareness about the compassionate care and support provided by hospice.
Developed under the guidance of the HOSG Advisory Board in 2013, the Tree House is a donation-based thrift store that benefits patient care at HOSG. Over the past decade, the organization has contributed over $600,000 to ensure hospice care remains accessible for those in need.
HOSG Director Amanda Mason expressed her gratitude for the latest donation, stating, "With this support, we are able to continue providing compassionate care to our patients during their most vulnerable moments. We are deeply grateful to our staff and volunteers who work diligently throughout the year to make this donation possible."
Employees and volunteers from the Tree House, HOSG, and SGMC Health gathered to celebrate the achievement at a check presentation this week. Mason extended her appreciation to the dedicated staff and volunteers whose hard work has been instrumental in the success of the Tree House.
The $115,000 donation will play a vital role in extending care to patients who may be unable to cover the costs of services, enabling the provision of free community resources such as home-based palliative care, grief support, and various other hospice programs aimed at enhancing the quality of life for patients and their families.
HOSG remains steadfast in its mission to provide dignity and a high quality of life to patients and their families who are grappling with both chronic and life-limiting illnesses. As Mason explains, "Palliative and hospice care represent a transition from treating a disease to treating patients holistically, offering not just medical care but also emotional and spiritual support. It brings new hope for living with dignity and sharing more meaningful moments with loved ones." These essential services are offered in patients' homes and at the Langdale Hospice House, ensuring compassionate and holistic care for those in need.
The Tree House offers a variety of new and gently used clothing and homewares. They accept donations of various items, with the exception of large appliances and old televisions, and even provide free pick-up services for substantial donations. The Tree House is located at 418 Northside Drive in Valdosta and can be reached by calling 229-293-9881.
For more information about the Tree House or HOSG, visit HospiceofSouthGeorgia.org.