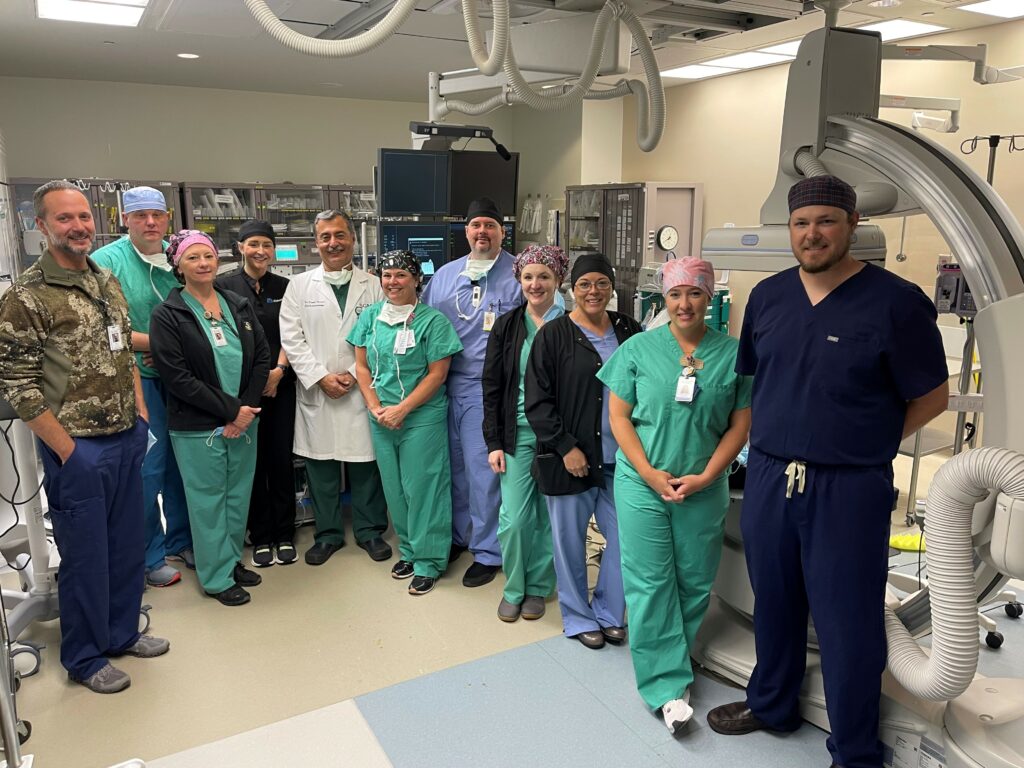 South Georgia Medical Center is thrilled to announce its first cardiac electrophysiology case and ablation at the Dasher Heart Center. Cardiac electrophysiology offers cutting-edge treatments for arrhythmias and other potentially serious disorders affecting the heart's rhythm.  
The first case performed by Kamil Hanna, MD, the area's only cardiac electrophysiologist, used a cryoablation technique performed to treat atrial fibrillation and took place in SGMC's state-of-the-art Cath Lab using highly advanced imaging and mapping.
According to Dr. Hanna, catheter ablations are performed by inserting a small flexible tube into a blood vessel of the leg which is then guided to the heart using precision-guided imaging and three-dimensional integrated mapping systems. Once the area is mapped out and the abnormal rhythm is identified, the abnormal electrical pathways in the heart can be cauterized with either radiofrequency (which uses heat energy) or cryotherapy (which uses cold energy) to create a scar. The scar, which cannot conduct electricity, prevents the abnormal heart rhythm.
"Cryoablation is a minimally invasive procedure used to treat atrial fibrillation when medications and other treatments aren't effective in restoring the heart's normal rhythm," said Hanna. "When it comes to catheter ablations, using cold energy offers several benefits to include less chance of affecting the healthy heart tissues and nearby structures and less pain experienced by patients."
On March 23, Dr. Hanna performed the first leadless MICRA pacemaker placement at SGMC. Unlike a traditional pacemaker, a leadless pacemaker is completely self-contained within the heart. This pacemaker—the size of a large vitamin capsule—is also 93 percent smaller than the size of a conventional pacemaker, and is inserted through a vein in the leg—eliminating the need for chest incision, or any resulting scars or bumps that can happen with conventional pacemakers.
Dr. Hanna has more than 22 years of experience in cardiology, completing his cardiovascular disease fellowship at the University of Arkansas for Medical Science and his electrophysiology fellowship from the University of Oklahoma.
"The addition of the electrophysiology services further enhances cardiac care at SGMC by offering leading-edge heart care utilizing the most innovative technologies available. Our patients no longer have to leave our community to access the very latest technology and treatments," said SGMC Chief Medical Officer Dr. Brian Dawson.
From heart disease education and prevention to advanced diagnosis, and from interventional and surgical procedures to rehabilitative care, SGMC offers the most comprehensive continuum of heart and vascular care in the region. For more information visit sgmc.org.