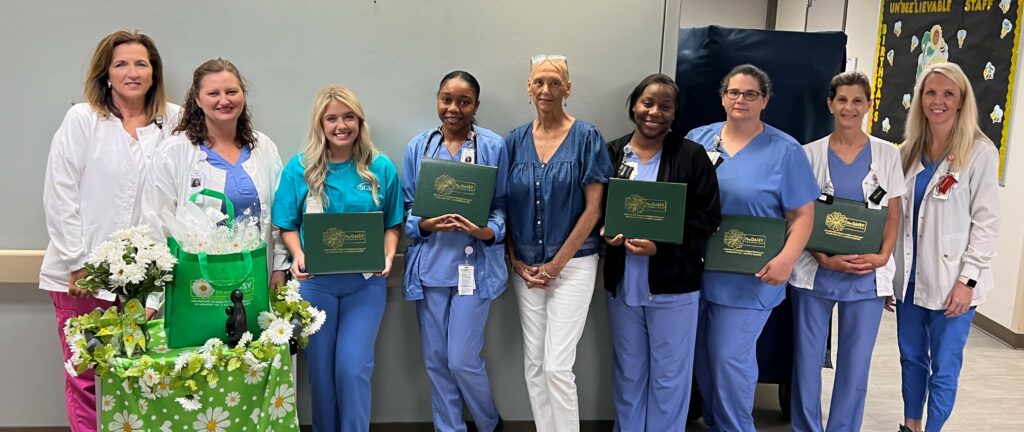 South Georgia Medical Center honored a team of nurses for the May DAISY Award for extraordinary nursing care. Chris Schauteet, Cristin Bryans, Courtney Howell, Chasity Williams, TyOnnah Maddox, and Danya Shealy were among the honorees recognized for their work in creating a most memorable patient experience.
The patient, Laurie Gulliksen, had been receiving inpatient chemotherapy since December of 2022 on 5 West. During this time the staff became very close with her. On Friday, April 21, the patient received her last treatment and was scheduled to go home. The nurses working that day wanted to celebrate this accomplishment and make it special so they purchased balloons, flowers, a card, and a gift, but most importantly, a bell for the patient to ring to signal the completion of her chemotherapy.
Gulliksen came back to the hospital to help present the honorees with their awards. She shared, "I will never forget the love and compassion shown to me and the friendships that were made. They are truly amazing people."
SGMC Senior Vice President, Chief Operating Officer, and Chief Nursing Officer Randy Smith expressed his gratitude for the team. "It's very fitting that we are able to present this award during National Nurses Week which recognizes the dedication of nurses and honors them for taking care of patients during their most vulnerable moments," he said. "I am extremely proud of our entire nursing team and their commitment to going above and beyond to enhance the patient experience at SGMC."
SGMC continues to ask patients and fellow employees to honor nurses they feel go above and beyond in their actions and care. Nominations are reviewed by a committee based on criteria that include compassion, teamwork, leadership, attitude, and skills and knowledge.
DAISY awards are presented monthly in front of the nurse's colleagues, physicians, patients, and visitors. Each honoree receives a certificate commending her or him for being an "Extraordinary Nurse." They also receive a beautiful sculpture called A Healer's Touch, hand-carved by artists of the Shona Tribe in Africa. A special floral arrangement of daisies was generously donated by The Flower Gallery, the local sponsor of SGMC's DAISY Award.
To nominate a nurse for the DAISY award, visit sgmc.org/daisy.