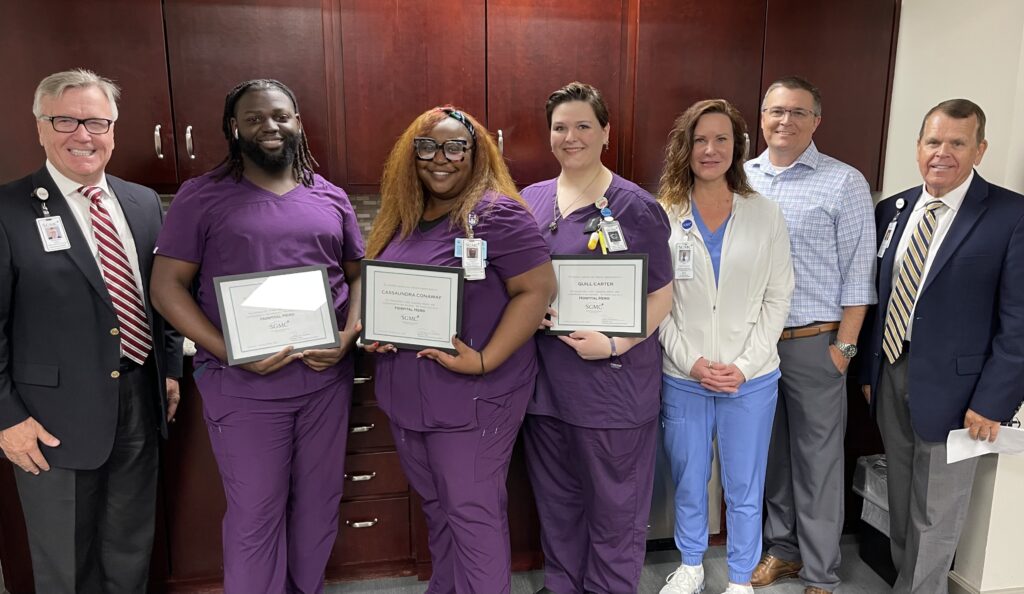 South Georgia Medical Center recognized Monitor Bank Technicians Travon Joiner, Quill Carter, Cassaundra Conaway, and Michelle Colón as the May Health System Heroes at its monthly Board of Directors meeting.
Joiner, Carter, Conaway, and Colón were honored for saving the life of a coworker, Anna Roland, who was having a stroke.  
Roland began feeling strange and first tried to ignore her symptoms. After about 30 minutes, she decided to ask her coworkers if something looked off. They noticed Roland was experiencing facial drooping and balance issues, two key indicators of a stroke.
The team jumped into action, and Joiner and Carter pushed Roland, still in her office chair, down the hall to the emergency department.
Roland was quickly administered a clot-busting drug to restore blood flow to her brain. This lifesaving drug can only be administered within a few hours of initial stroke symptoms, which is why it is imperative to act swiftly if a stroke is suspected.
"These four individuals were amazing in their quick response to aid their coworker," shared Jessica West, Nurse Manager. "Because of their critical thinking and teamwork, they got Anna to the emergency department, and she is now recovering very well."
SGMC Neurologist and Chief Medical Officer Dr. Brian Dawson shared that it's important for the community to understand the signs and symptoms of stroke to further enhance outcomes. "Time is critical when identifying and treating a stroke. An easy way to learn the signs of stroke is by using the acrostic B.E.F.A.S.T."
B- Balance Problems
E- Eyesight Issues
F- Facial Drooping
A- Arm Weakness
S- Speech Difficulty
T- Time, Call 911
SGMC has the area's only certified stroke center and has received the American Heart Association Get with the Guidelines award for excellence in stroke treatment for nine consecutive years.
The lifesaving team received a standing ovation from those in attendance.
SGMC is a regional health system comprised of four hospital campuses in Lowndes, Berrien, and Lanier counties. Its network includes 12 primary care offices and over 30 specialty care clinics and facilities. To learn more, visit sgmc.org.