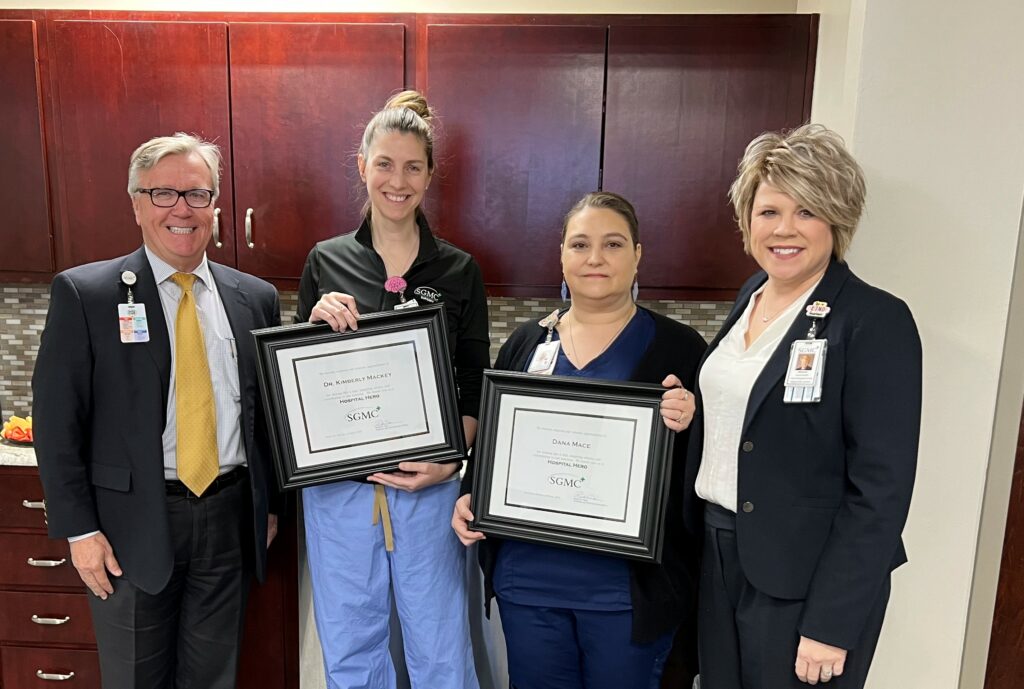 South Georgia Medical Center recognized Dana Mace, Patient Access Services, and Dr. Kimberly Mackey, Neurosurgeon, as the March Health System Heroes at its monthly Board of Directors meeting. Mace and Dr. Mackey were honored for their quick action which saved the life of a child. 
Brenda Alexander, Chief Human Resources Officer and Vice President of South Georgia Physician Network, shared the story of a panicked mother and her unresponsive baby who came to SGMC's Professional Building looking for the emergency department. Mace was registering other patients for their appointments when she noticed the frantic mother and left her desk to investigate, realizing the baby was turning blue.
Mace quickly rushed the family outside and headed towards the emergency department a few hundred yards away. As luck would have it, she ran into Dr. Mackey, who jumped into action.
Dr. Mackey began performing chest compressions as she ran with the child over to the emergency department for further care.
Thanks to their heroic measures, the baby's life was saved.
Ronald Dean, President and Chief Executive Officer, congratulated the team and thanked them for answering the call to provide care in a patient's time of greatest need. "You never know how you might impact a life just by showing up," he said.
The honorees received a standing ovation from those in attendance.
For more information, visit sgmc.org.