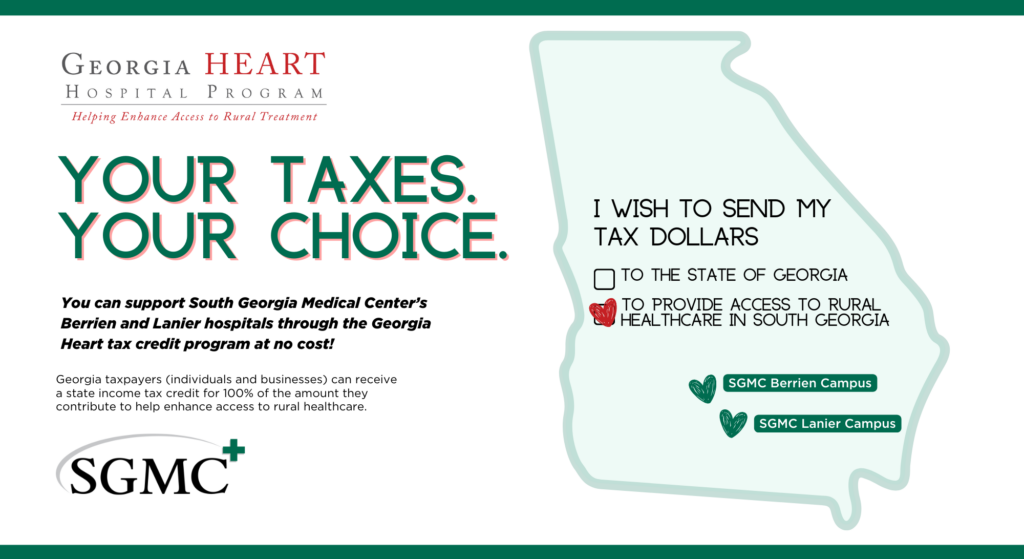 Together, Let's Expand Our HEART!
The HEART Program is a remarkable and brilliant opportunity provided to Georgians by our elected officials. We are the only state in the nation whose taxpayers can financially support our state's rural hospitals – at no cost!
You can provide essential improvements to health care in our community by contributing to the SGMC Berrien Campus or SGMC Lanier Campus through the Georgia HEART program, in exchange for a 100% Georgia income tax credit.
Recent IRS regulations provide even more good news and positive impact for many participants in this program. For "C" corporations and some pass-through businesses, the contribution will constitute an ordinary and necessary business expense, which will provide a federal income tax benefit.
Follow these easy steps to sign up to contribute for your 100% tax credit:
Complete and submit your 2023 HEART Tax Credit Form at www.georgiaheart.org (takes just 20 seconds!)
Georgia HEART will submit your tax credit pre-approval form on your behalf to the Georgia Department of Revenue (DOR) in the order in which it is received
You will receive an email with your approved tax credit amount
Make your payment for deposit to the hospital's account.
Georgia HEART will report your contribution to the DOR on your behalf and will send you a tax receipt.
You will claim the credit when you file your 2023 Georgia income tax return
Your contribution will increase our hospital funding and our ability to provide for the healthcare of individuals in our community at this critical time!
For more information about the Georgia HEART rural hospital tax credit program, please visit www.georgiaheart.org or contact Hilary Gibbs, SGMC Vice President and Chief Development Officer, at 229-433-1073 or hilary.gibbs@sgmc.org.