Dr. James Davis is a Board Certified General Surgeon who specializes in Endocrine Surgery. In addition to being trained as a general surgeon, Dr. Davis also holds a fellowship from the University of Texas Southwestern Medical Center in the rare subspecialty of endocrine surgery. Endocrine surgeons are specialized in the care of both benign and malignant diseases of the thyroid, parathyroids, adrenal glands and pancreas.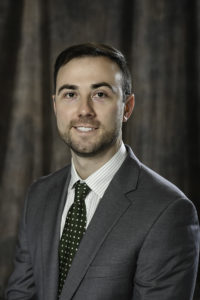 With his specialized training, Dr. Davis is an expert in minimally invasive parathyroid and thyroid surgery as well as complex laparoscopic adrenal surgery. He offers a wide range of unique services including transabdominal laparoscopic adrenalectomy; minimally invasive thyroid and parathyroid surgery; lymph node dissections, and reoperative surgery for recurrent thyroid cancer.
Dr. Davis is also certified in minimally-invasive laparoscopic surgeries using the daVinci Robot.    

As a native Georgian, Dr. Davis is excited to return to his home state to practice medicine. 
Endocrine Surgery
Minimally Invasive Thyroid Surgery
Minimally Invasive Parathyroid Surgery
Reoperative Parathyroid Surgery
Surgery for Recurrent Thyroid Cancer
Laparoscopic & Robotic Adrenalectomy
Laparoscopic Pancreas Surgery
Diagnosis and Management of Thyroid Nodules and Goiters
Evaluation and Management of Adrenal Tumors
Assessment of Multiple Endocrine Neoplasia (MEN) and other genetic endocrine conditions
General Surgery
Open, Laparoscopic, and Robotic Surgery of the Abdomen (Gastro-intestinal tract, spleen, pancreas)
Hernia Surgery (open, laparoscopic, and robotic repairs)
Upper Endoscopy and Colonoscopy
Breast Surgery for benign and malignant conditions
Skin and Soft Tissue Conditions
Acute Care Surgery and Emergency Trauma
Patient Testimonial
"I'd recommend Dr. Davis to anyone in need of an endocrine surgery," said James Walker, surgery patient. Read about his experience.
Physician referrals are recommended. Call the office manager at 229.333.1711 to refer a patient or if you have any questions. Please fax important medical documents prior to scheduled appointments to 229.333.1719. Common documents include:

Most recent office visit H&P
CT/Xray/ultrasound reports and CD's/films
Operative notes/procedures
Most recent discharge summary
Insurance information
Contact
Phone
229.333.1711
Fax
229.333.1719
Location
Conveniently located inside the Professional Building on SGMC's main campus

2409 N. Patterson Street
Valdosta, Georgia 31602
Suite 200