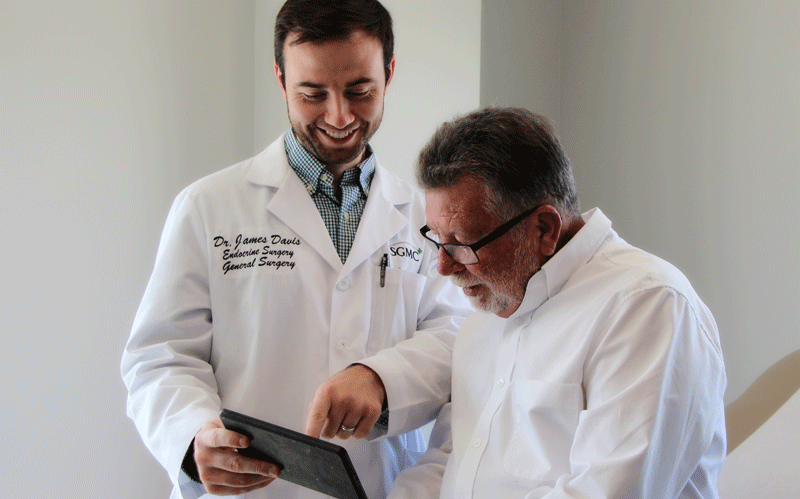 The arrival of a new surgical specialist in Valdosta saved James Walker valuable time and a trip to Florida for endocrine surgery.
Mr. Walker was diagnosed with a nodule (tumor) on his left adrenal gland. The tumor was discovered when Mr. Walker underwent a CT scan to track the progression of his rheumatoid arthritis. The rheumatologist referred Mr. Walker to a North Florida hospital for the adrenal nodule to be surgically removed.
Later, during a routine exam with his primary care provider, Dr. Anthony Johnson, Mr. Walker mentioned the nodule and the impending surgery. He told Dr. Johnson he was on a surgery waiting list, and it may be a few weeks before the out-of-state surgery could be performed.
That's when SGMC's new endocrine surgeon, Dr. James Davis, entered the conversation.
Dr. Johnson had been introduced to Dr. Davis a few days earlier. From that meeting, Dr. Johnson knew Dr. Davis was trained to provide advanced endocrine surgeries for diseases of the thyroid, parathyroid, adrenals and pancreas, as well as general surgeries. Dr. Johnson put Mr. Walker in touch with Dr. Davis and the rest is history.
The laparoscopic adrenalectomy Dr. Davis performed on Mr. Walker is believed to be the first of its kind for SGMC.
"The procedure used to remove the adrenal nodule is called laparoscopic adrenalectomy," Dr. Davis explained. "It is a minimally-invasive technique that is performed by making three or four ¼-1/2 inch incisions. Laparoscopic surgeries are generally less painful, provide better cosmetic results, and have a smaller risk for infection, making them preferred by patients and surgeons alike."
The adrenal glands sit on top of each kidney and are known as endocrine glands because they produce hormones. These glands function to produce hormones involved in control of blood pressure, electrolyte and fluid balance, glucose usage as well as the "fight or flight" reaction during times of stress. In the past, conventional open adrenal surgery required a large 8-12 inch incision in the abdomen or flank to remove an adrenal gland tumor.
According to Dr. Davis, "The laparoscopic adrenalectomy could not have gone better."
Mr. Walker was discharged home the next day and his recovery has been smooth.
Two weeks post discharge, Mr. Walker is walking 2 miles a day and is very pleased with the whole process. "I'd recommend Dr. Davis to anyone in need of this procedure," said Mr. Walker.
For more information on Dr. Davis, click here.