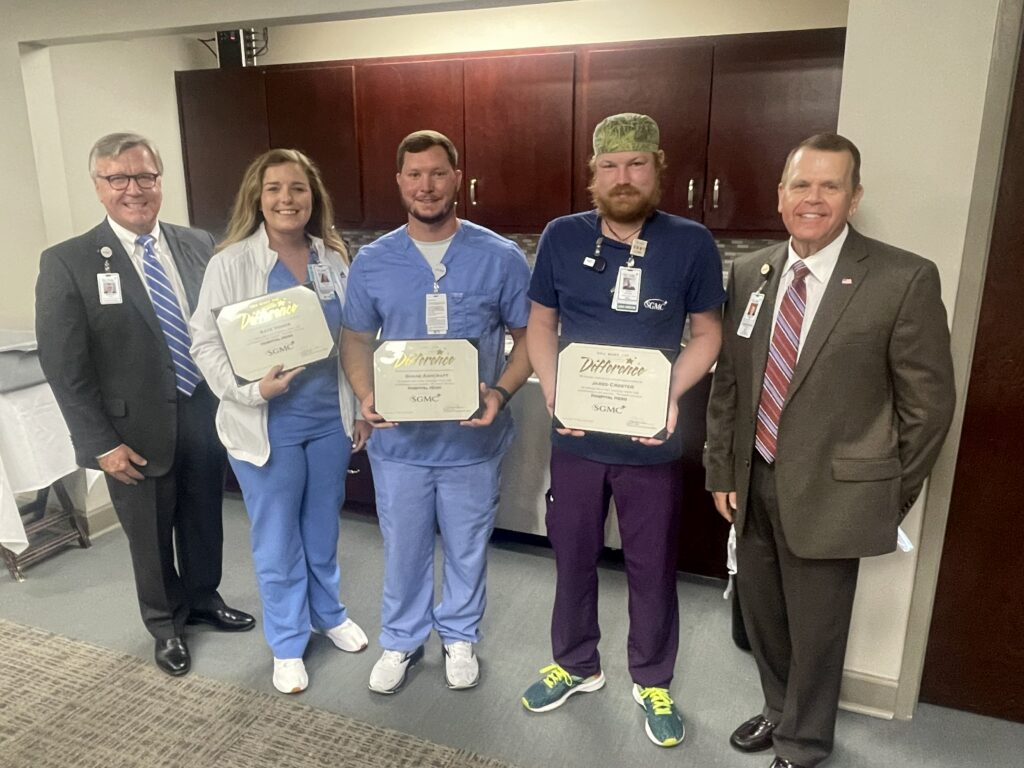 South Georgia Medical Center honored registered nurses Shane Ashcraft and Kate Voiner, patient care techs Jared Crotser and Roxanne Montz, patient care coordinators Gina Colson and Sheila Harbinson, and case manager Joel Williams, as Hospital Heroes at its monthly Board of Directors meeting. Ashcraft, Crotser, and Voiner accepted the awards on behalf of the team who serves on SGMC's critical care units.  
On June 1, Randy Smith, SGMC Chief Nursing Officer and Chief Operating Officer, received a call from an appreciative father whose daughter had been admitted into SGMC's Intensive Care Unit. He and his family were so impressed by the care given to his daughter and wanted to do something for the staff to express their admiration.
The father arranged for food trays to be sent to both the day and night shift employees. He explained that both he and his family were in complete awe of how compassionate and caring the SGMC staff had been.  
According to Smith, in such an intense environment, many situations escalate quickly. Handling these high-stress cases requires leadership and teamwork. SGMC is extremely proud of this team for their demonstration of partnership, unity, and excellence.   
Voiner shared, "It's not about any one of us individually. It's all of us. It's a team effort!"
Ashcraft, Crotser, and Voiner all received standing ovations from those in attendance.
For more information, visit sgmc.org.