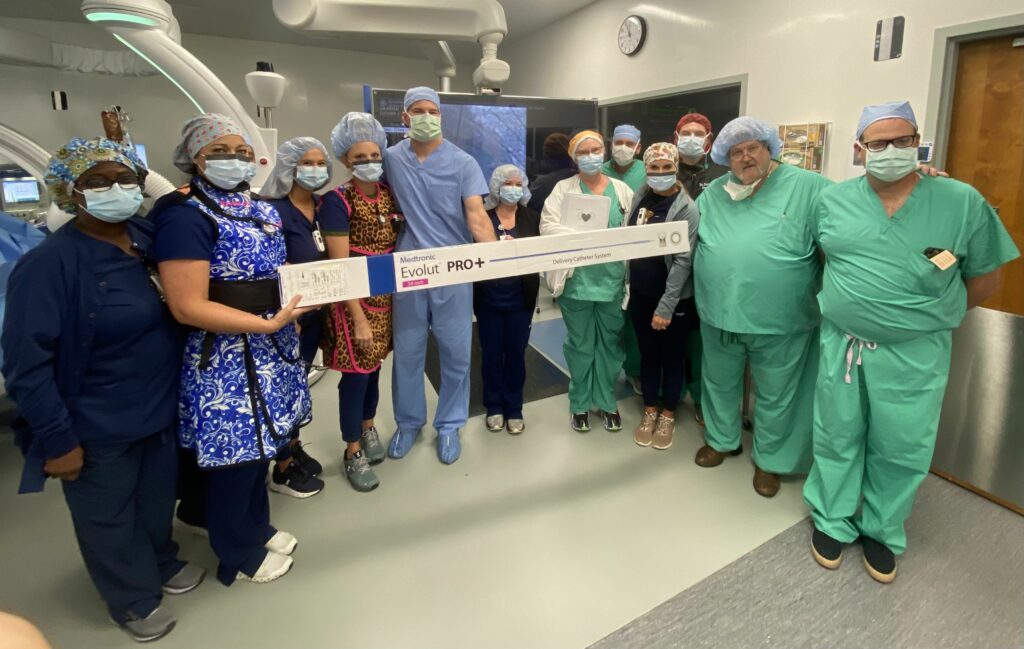 South Georgia Medical Center's heart program hit another milestone for the region, performing the first transcatheter aortic valve replacement (TAVR) on May 23, 2022. TAVR is a minimally invasive procedure that replaces a dysfunctional aortic valve without the need for open heart surgery.  
This procedure is a result of a focused approach by SGMC's physician leadership to better understand and treat heart valve conditions. Patients with heart valve issues can now be seen at SGMC's Structural Heart Clinic. The clinic is led by Cardiothoracic Surgeon Dr. Randall Brown, Interventional Cardiologist Dr. Luke Seibolt, and Advanced Practice Registered Nurse Kelly Blackmon, who also serves as the valve clinic coordinator.
"If a patient's heart valve doesn't function correctly, blood flow from the heart to the body is reduced," said Dr. Seibolt. "TAVR is an alternative to open heart surgery, that can help restore blood flow and reduce the signs and symptoms from an improperly working valve."
Symptoms include chest pain, shortness of breath, fainting, and fatigue. 
Dr. Seibolt joined SGMC in July of 2021 after completing his TAVR training at Ascension St. Vincent Hospital in Indiana, performing 81 TAVRs last year. 
As with other minimally invasive procedures, benefits include a smaller incision, lower risk of complications, less time spent in the hospital, and overall faster healing.
TAVR may be an option for people with severe aortic valve stenosis who do not want open-heart surgery or have an elevated risk of complications with open-heart surgery. Other conditions treated by the Structural Heart Clinic include aortic valve stenosis, mitral valve regurgitation, patent foramen ovale, and atrial septal defect.
"Launching the Structural Heart Clinic was truly a team effort from our cardiologists, cardiac surgeons, surgical teams, and imaging specialists. We believe collaborative care and cutting-edge treatment leads to better outcomes for our patients," said Dr. Brown.
SGMC has the region's only open-heart program, structural heart clinic, and electrophysiology program. To learn more about SGMC's heart and vascular programs visit sgmc.org.