South Georgia Medical Center is taking additional steps to protect patients, family members, staff and the community from the transmission and community spread of the COVID-19 coronavirus.
Inpatients who aren't positive for COVID-19 are allowed one visitor at a time.
Outpatients and emergency room patients are allowed one visitor.
Labor and Delivery and Post Partum patients are allowed two visitors at one time.
COVID-19 positive patients are allowed visitors ONLY under special considerations.
---
Visitation will be allowed under these special considerations:
Patient who is at end-of-life.
Patients who have cognitive or communicative disabilities or issues, a support person will be allowed to accompany a patient throughout their stay, whether inpatient or outpatient, according to the qualifiers of outlined by the Office for Civil Rights.
---
What you can expect when you arrive
VISITOR SCREENING
Visitors can expect to receive a temperature screening and be asked the following questions:
Do you have respiratory symptoms such as cough or shortness of breath?
Have you been in contact with someone known or suspected to have COVID-19 within the last 14 days?
If you have a temperature of 100.0 or above and answer "yes" to any of the above questions, you will not be allowed to visit.
VISITORS MUST
Receive a brief screening upon entry and an authorization badge
Wear the surgical mask provided by the screener at all times while inside the hospital
Use hand sanitizer upon entering and exiting the hospital and patient rooms
Be over the age of 12
Practice social distancing while in the facility
---
We strongly discourage visitors over the age of 70 with chronic health conditions.
Exceptions to these restrictions may be granted by the patient's care team.
Visitor Entrances
The main entrance will remain closed at this time. Other entrances are identified in the map below.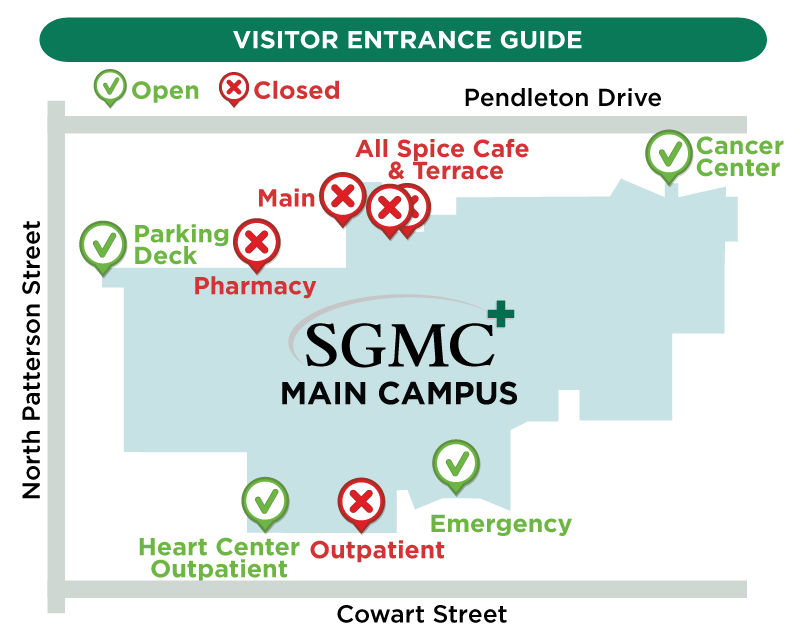 Entrance Hours of Operation
Parking Deck: 9am-8:30pm
Emergency: Open 24/7
Dasher Heart Center/Outpatient: Open M-F, 9am-8:30pm
SGMC Berrien Campus
All guidelines above.
Visitors can only enter through the main lobby.
No visitors allowed in the Dogwood Senior Health Center GPU.
SGMC Lanier Campus
All guidelines above.
Visitors can only enter through the main lobby.
Visitation Hours: Monday-Friday, 8am-8pm and Saturday-Sunday, 9-11am and 5-7pm
No visitors allowed in the SGMC Lakeland Villa.
---
South Georgia Medical Center will continue to update its website based on the latest events related to the COVID-19. This page was last updated on April 14, 2021.