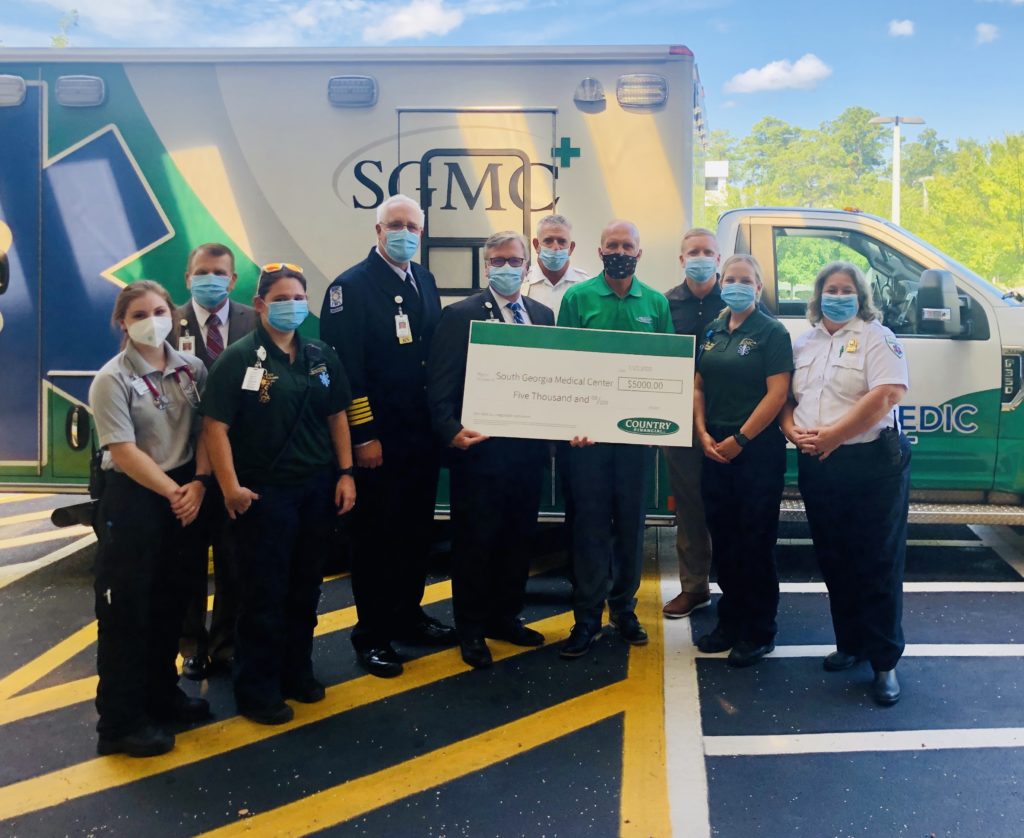 COUNTRY Financial Insurance Agents Ford Bowen and Jamie Joiner presented South Georgia Medical Center with a $5,000 check on Wednesday as a part of its Operation Helping Heroes Program.
Bowen said, "Jamie and I teamed up a few months ago because we wanted to find a way to say THANK YOU for the hard work, sacrifice, and diligent care our healthcare workers have provided for our community. Healthcare workers and first responders are experiencing many of the same struggles we are due to COVID, and are making the unselfish decision to continue their efforts to care for our community. These people are an inspiration to us and are true life HEROES."
SGMC will use the funds to help purchase equipment for Emergency Medical Services ambulances.
"We are very grateful to have generous community partners like Ford and Jamie with COUNTRY Financial," said President and Chief Executive Officer Ronald E. Dean. "This type of community support only serves to fuel the great work of our physicians, nurses, emergency medical service personnel and staff. For that we are deeply grateful."
As the COVID-19 pandemic continues to spread across the U.S. and add pressure to the nation's hospitals, healthcare workers and first responders, COUNTRY Financial launched its Operation Helping Heroes program, the company will donate $3 million to first responders, medical workers and military service members in the communities it does business in.
Operation Helping Heroes was created in 2015 to support non-profit organizations that support active duty service members, veterans and their families. In 2019, COUNTRY Financial expanded the program and donated $700,000 to approximately 500 first responder and military organizations. Some of the funds were used to purchase lifesaving automated external defibrillators (AEDs), bulletproof vests, and training equipment and programs.