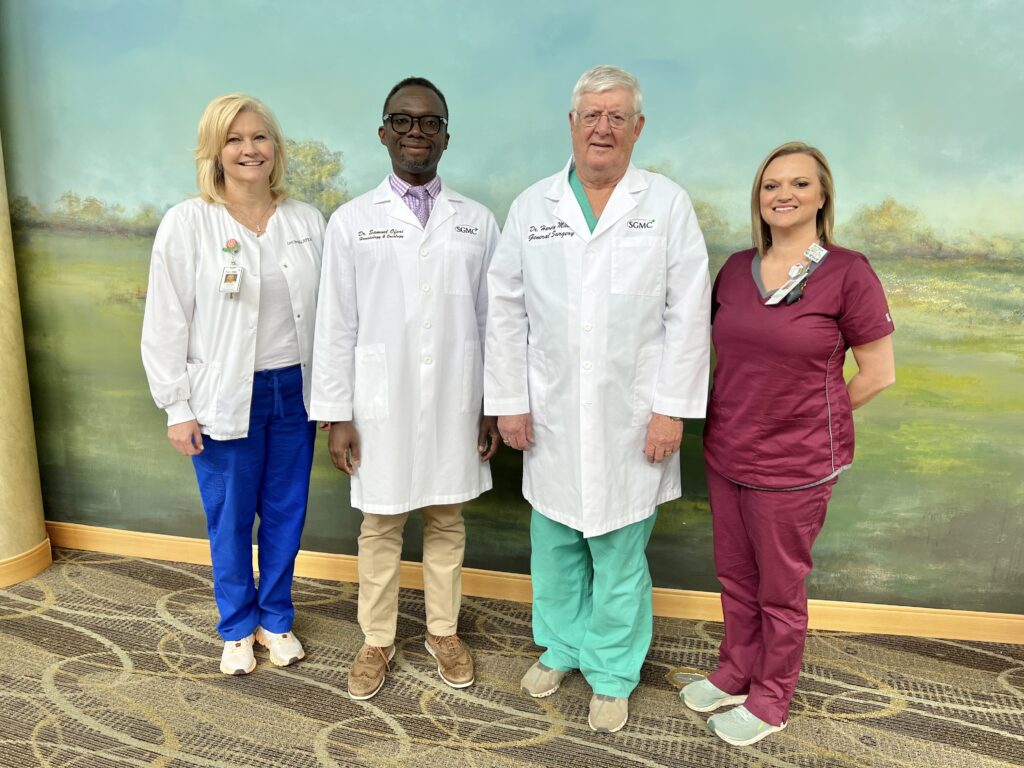 Pictured from left to right: Lori Trouille, N.P., Breast Health Navigator; Samuel Ofori, M.D., Cancer Center Medical Director; Harvey Miller, M.D., The Breast Center Medical Director; Kayla Ply, Lead Mammography Tech
South Georgia Medical Center is excited to launch a new comprehensive breast center under the leadership of general surgeon Dr. Harvey Miller, Chief Clinical Quality Director at SGMC.  
Dr. Miller has been working with multidisciplinary teams to enhance processes that support a highly reliable workflow and decrease time between imaging, diagnostics, and treatment for breast cancer.
"Our goal is to communicate early and often to alleviate any anxiety that comes from the unknown," said Miller.
According to the American Cancer Society, women at average risk for breast cancer have the option to start screening every year at age 40. Women who are at high risk should get a breast MRI and a mammogram every year, typically starting at age 30. Women should consult their physician to determine their risk category.
SGMC's Women's Imaging Center and SGMC's Berrien Campus offer the very best in mammography services. Both locations offer Genius™ 3D Mammography™ exams, developed by Hologic, Inc., a worldwide leader in Women's Health. Utilizing advanced breast tomosynthesis technology, these exams are clinically proven to significantly increase the detection of breast cancers, and decrease the number of women asked to return for additional testing.
Should the radiologist recommend further testing, patients are contacted by SGMC's Breast Navigator, Nurse Practitioner Lori Trouille, who guides each patient throughout their journey while keeping their provider informed.
If cancer treatment is recommended, the Pearlman Cancer Center features a Breast Care Team comprised of medical professionals from many different specialties who meet to review the best evidence-based treatment options in a collective setting.
"This takes treatment to another level, as multiple therapy options can be used to cater to a patient's specific diagnosis," said Miller.
For more information, visit sgmc.org or call 229-242-4996.